Michael Yon
has a copy of a letter sent by Barbara A. Mikulski (Dem, MD) and Jim DeMint (Rep, SC), urging
Secretary of State Condoleeza Rice to take immediate action and formally request that the Government of Lebanon arrest and extradite convicted killer Mohammed Ali Hamadi to the United States. Hamadi was serving a life sentence in Germany for the 1985 hijacking of a TWA jetliner and killing of U.S. Navy diver Robert Dean Stethem, 23, of Waldorf, Md. He was paroled after 19 years in December 2005, and is known to be hiding in Lebanon.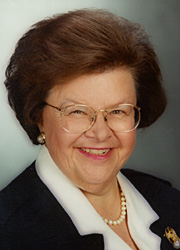 Fair's fair - I seldom agree with Mikulski, but this time, she deserves to be commended for being on the right side. Lebanon owes us - we've had good relations for a long time, and the Germans were wrong to release him. They did it so German kidnap victims would be released. I'm not supportive of cooperating with kidnappers - it's a sure way to decrease the safety of other citizens abroad. But, that seems to be the preferred tactic of the Euros - cringe, fold, and mutilate human dignity.
These are pictures of the young sailor, who was beaten, tortured, and shot by Hamadi. He died at 23. The navy named a warship after him, and gave him a Purple Heart and Bronze Star.
That isn't enough. Our government needs to extradite Hamadi, or add Lebanon to the list of governments that have chosen to support our enemies.
The ball's in Bush's court. He needs to do the right thing.
Tags
=
News and Politics